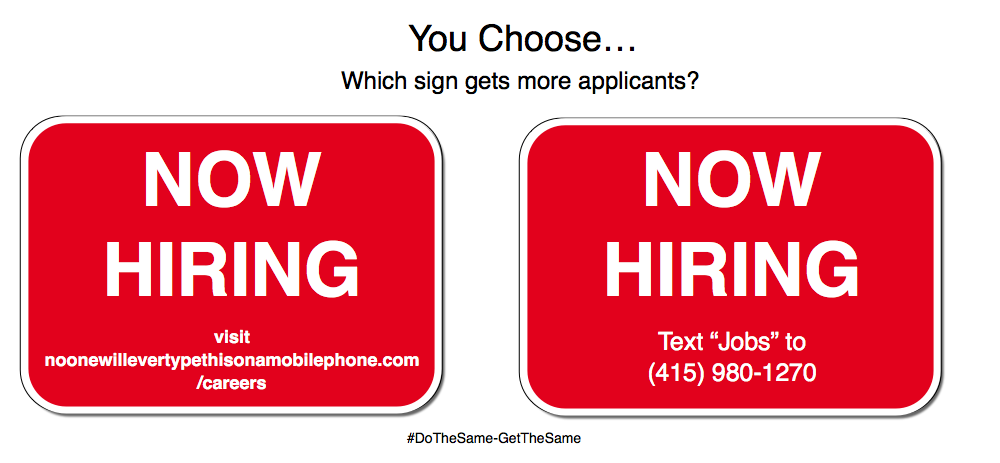 Retail and Hospitality recruiting is getting harder and harder.
"Now Hiring" signs and "We're Hiring" signs are a great way to get the attention of your existing customers and local foot traffic. But, sending potential applicants to a career site, that requires them to type in 20 characters, on a mobile phone, and then try to apply via a non-mobile optimized web site, is a recipe for failure.
Per Jobvite's annual "Recruitment Marketing Funnels" report, as well as Appcast's Cost Per Applicant annual survey, the average Career "Visitor to Apply" converstion (ie. of all the people who visit your career site, the percentage of those visitors who complete an application), was 8.52% in 2016, per Jobvite, and even lower per AppCast.
That means that 9 out of 10, or more, of your organic and paid job seekers who visit your career site, are leaving without you knowing much about them.
That also means that 90% of your recruitment marketing budget was WASTED!
How do you solve that problem?
Find alternative solutions for your prospective workforce. If you're hiring a non-desktop workforce (ie. a workforce that is probably "Messaging First and Email Second" you might consider a Text Messaging Chatbot, that engages candidates, stores their contact information, etc.
Doing the same thing as your competitors will only get you the same results.
You Choose, leave a comment below.
Share this post on: