The recruiting process is filled with manual, redundant, and time sequence-dependent tasks that slow down the recruiting process, causing candidates to drop out of the process while costing the business quality candidates.
Recruiting chatbots can automate candidate acquisition, pre-screening, and interview scheduling.
Below are some recruitment chatbot examples to help you understand how recruiting chatbots can help, what they can do, and ways to implement them.
What are Recruitment Chatbots?
Recruitment chatbots, or virtual recruiting assistants, are computer software programs that can perform tasks like engaging with candidates, pre-screening candidates, or automating interview scheduling, using multiple messaging channels, like text messaging, Facebook Messenger, and webchat.
These tasks can be voice requests, like asking Siri or Google Assistant to look up information, or can be a candidate responding to a job ad over text messaging.
Recruiting Chatbots can be deployed on multiple platforms; including, Facebook Messenger, SMS / Text Messaging, and web chat (and more).
What is Recruiting Automation?
Recruiting Automation is the process of studying the recruiting process steps required to hire an employee. Once the process is documented, the steps can be reviewed to determine which steps might be reorganized, removed, or automated, based on current needs and available technology and resources.
Below are several recruitment chatbot examples as well as companies using chatbots in recruitment and how they're implementing automation.  There are lots of different types of recruitment chatbots and how they can automate certain steps in the recruiting process.
What are the best chatbots for recruiting?
The best chatbots for recruiting are the ones that solve your specific recruiting process for your candidates, your specific company workflows, and integrate into your existing ATS and technical stack. In nearly all cases, chatbots are customizable, so the best chatbot for your recruiting process and your candidate experience is the one that can be configured for your recruiting needs.
Who are some companies using chatbots in recruiting?
More and more companies are starting to use chatbots in recruitment; from high-volume retail and restaurants to manufacturing, warehouse, trucking, staffing, and healthcare. Here are some examples:
Recruiting Chatbot Examples
1. Job Postings with an Apply By Text pre-screening text chatbot.
Over the last 10 years, most larger companies have posted jobs to job boards, with links to apply on a corporate career site. In most cases, 90% of the time, visitors don't actually apply through this process. They visit the site and leave, without providing any contact info. Chatbots are changing this. With an SMS / Text Messaging chatbot candidates are encouraged to provide their contact info and answer pre-screening questions.

2. Now Hiring signs with Text to Hire, QR Codes, and shortcodes.
This is a great tactic for Retail, Hospitality, and other part-time hourly positions. With near full-employment hiring managers need to make it easy for candidates to apply for positions. Typical in-store recruiting messaging sends candidates to the corporate career site to apply, where we know 90% of visitors leave without applying. With a Text Messaging based chatbot, candidates can start the recruiting process while onsite, by texting the company's chatbot. Candidates can enter their contact info, their desired location, answer pre-screening questions, and even schedule onsite interviews.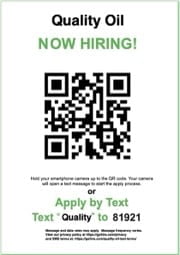 3. Candidate Pre-Screening
One of the largest time blocks involved in recruiting is screening candidates. Most of the time, recruiters confirm the candidate's Qualifications, Availability, and Interest, during a first-round pre-screening phone call. This isn't scalable. Wouldn't it be easier to just send a candidate a text message, that leads them through a pre-defined series of short questions that pre-screens them for a role? Recruiters could literally send hundreds of these text messages in a couple of minutes, and literally get hundreds of responses in minutes, vs days, or weeks, with phone calls and emails.
4. Automated Conversational AI Messaging Sequences for quick responses
Text Messaging is by far, the most effective way of communicating with job seekers today. LinkedIn emails aren't being read or responded to. The open rate for emails is below 14%. Meanwhile, candidates open text messages about 95% of the time and respond quickly. Usually in minutes vs hours or days. Recruiters often need to confirm details, and appointments, or communicate quick questions or steps. Text messaging is great for this type of quick, short message, and candidates love it too!
5. Automated Scheduling over Text Message
Another major time-dependent task is interview scheduling. Simply calling candidates isn't very effective anymore. Candidates aren't answering calls from unrecognized phone numbers. Calling candidates in the middle of their current job is inconvenient, and playing the back-and-forth "what time works for you" is a miserable waste of time for everyone. Recruiting chatbots are great at doing this like automated scheduling, making it easy for recruiters to invite candidates to schedule something on the recruiter's calendar. Imagine a candidate goes through a pre-screening process, and at the end of the process, they are given the opportunity to schedule a pre-screening phone call or even a retail onsite meeting. Try the demo below, that's exactly what it does.

6. Career Chat – Web chat for Candidate Engagement (Live Agent and Chatbot modes)
In the Jobvite 2017 Recruiting Funnel report, only 8.52% of career site visitors actually completed an application. That means that approximately 91% of candidates visited a career site and left without providing any contact information to contact them in the future. Career Chat, in either Live Agent, or chatbot modes, can engage candidates, answer questions, pre-screen candidates, build candidate profiles, and allow candidates to search for jobs and even schedule interview times. The engagement abilities of a web chat solution are almost limitless, and the conversion rates are far superior to most corporate career sites.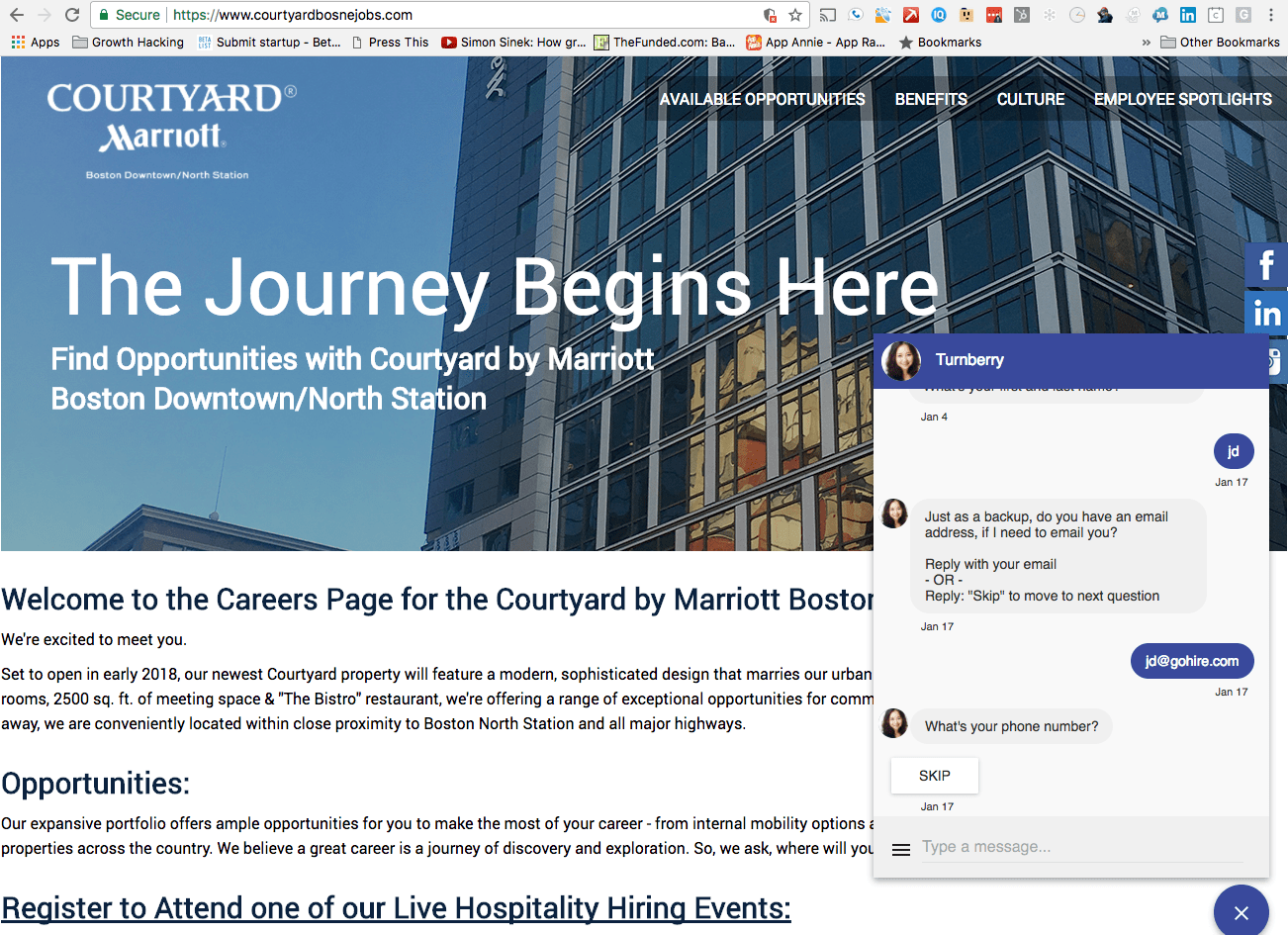 7. Facebook Careers Page Engagement
Facebook recruiting is becoming more and more popular. Facebook Groups and Facebook-promoted posts are generating applicants for many employers. But, Once a candidate gets to your Facebook Careers Page, what are they supposed to do? With an automated Messenger Recruitment Chatbot, candidates can "Send a Message" to the Facebook page chatbot. The Messenger chatbot can then engage the candidate, ask for their profile information, show them open jobs, videos about working at your company, and even create Job Alerts, over Messenger.
8. Candidate Experience with FAQs
Candidate experience is becoming critical in today's recruitment marketing. With near full employment in many areas of the US, candidates more options than ever before. As such, Talent Acquisition leaders need to make it easy, simple, and engaging, during the candidate journey. Recruitment Chatbots can not only engage candidates in a Conversational exchange but can also answer recruiting FAQs, a barrier that stops many candidates from applying. With a recruiting web chat solution like Career Chat, candidates can learn more about the company and engage recruiters in Live Agent modes, or Chatbots in automated modes.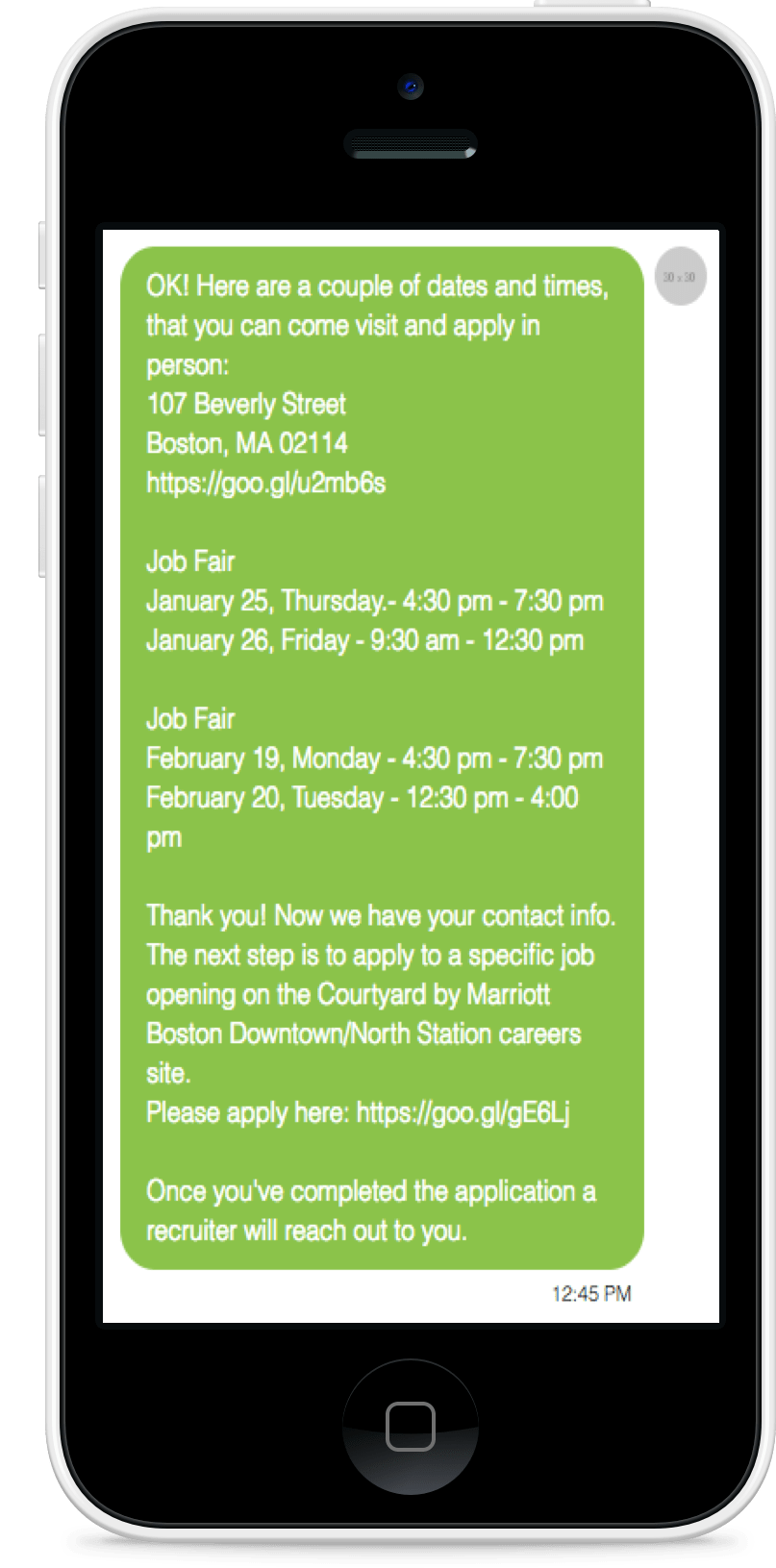 9. Job Fair Chatbot Registration & Reminders
Job Fairs or onsite recruiting events are becoming more popular as a way to engage multiple candidates at once, interview them and even provide contingent offers onsite. The problem is generating interest, and then getting a candidate to show up. With a Text-based Job Fair Registration chatbot, employers can advertise their job fair on sites like CraigsList, using a call to action to "Text" your local chatbot phone number. Then, the job fair chatbot responds, registers the job seeker, and can then send automated upcoming reminders; including times, directions, and even the option to schedule a specific time to meet.
10. Job Alerts over Messaging
Recruitment Marketing Automation, for most companies, consists of sending automated job alerts via email. Email has an open rate of about 14% and email job alerts have a click-through rate of about 2% (based on statistics from GoJobs.com ). Messaging Job Alerts, however, gets 95% Open Rates and 21% clickthrus.
Messaging is killing email, especially for the part-time hourly workforce. Currently, 25% or more, of the US workforce either doesn't have or doesn't use email regularly, to communicate. This number is only getting bigger, as the Messaging-First workforce continues to grow.
11. Employer Branding Content Distribution over Messaging
Engaging the right candidates is becoming crucial for employee retention. Unfortunately, Employer Branding is often expensive and time-consuming because it entails building content (articles, blog posts, employee interviews, videos, etc), and then marketing that content to your primary candidate pool. While many companies are doing great at building employer branding content and getting that content on their career site, how many candidates are seeing it? How trackable is branding content? With chatbots, it's possible to send automated messages to your existing subscribers, with your latest blog posts, videos, etc. all over multiple messaging platforms.