Recruiting, Hiring, and Keeping employees can be really tough.
Hiring the right people is even harder.
If you've been frustrated as a hiring manager, recruiter or HR team member, I'm sure you've thought couldn't we just create a sign that said "Now Hiring- non-stupid people". Well someone did, and it's working.
In Pasadena, TX, Walter Parsons, the owner of Pets Gone Wild Resort was hitting the wall when it came to hiring for his small business. Originally he found this sign on Amazon.
Now Hiring Non-stupid people
They laughed in the office. But then, bought it. Put it up, and got qualified candidates. Right away.
The situation is pretty familiar in the HR and recruiting space.
They've used traditional job ads but weren't getting enough candidates.
The candidates they did get, were not who they needed.
They were hiring people who left 3 days after starting.
They were hiring people who weren't a right fit (using their mobile phones when they should have been working with the animals.)
It's a story we hear all the time in recruiting and HR.
It's not just getting candidates. It's getting candidates that fit your company, the specific role, and your culture.
In a small business, everyone is a key player, so hiring someone that isn't a fit is a painful process.
While the sign is an outrageous campaign, and something many of us would have loved to have used at some point in our careers, it is working for Pets Gone Wild. They got 3 quality applicants pretty quickly.
By looking at the YouTube comments there are a lot of supporters of the sign and the business owner.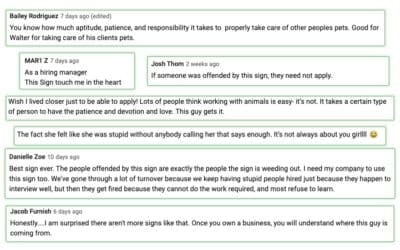 Getting attention for your jobs is one thing, but making it easy to apply, engaging and qualifying candidates quickly are equally important.
There are lots of ways to change your job ad process to get more qualified candidates quickly.

You can use Apply by Text, with QR Codes, making it easy for candidates to apply, pre-screen themselves, and then respond over text messaging.
Reported from KHOU 11
Share this post on: